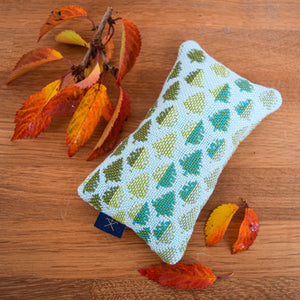 Hopipola Handwovens
Change in the Woods Cedar pouch
Regular price
£12.00
£0.00
Unit price
per
Tax included.
At the time that I was designing my Children's Tales collection, I was going on lots of woodland walks. I felt like red riding hood wandering between the firs as the seasons changed from autumn to winter. On bright sunny early autumn days the woods had a lightness about them that I tried to capture in this design, along with some of the colour changes within a fir forest from the other foliage within.
These sachet pouches are filled with aromatic cedar chips to help to eliminate unpleasant odours, repel insects, absorb dampness and bring a fresh, woody fragrance to your home. Perfect to freshen up wardrobes and drawers or to be used to display jewellery.
If, like me, you are a textile enthusiast these are brilliant to pop in amongst your stored wool to help keep those pesky moths at bay.
15 x 8 cm
Filled with cedar wood shavings
Front: 50% lambs wool, 50% cotton
Back: 100% cotton
---